Oh yes,this is the true story! the truth and fearless comments cleanmediatoday.blogspot.com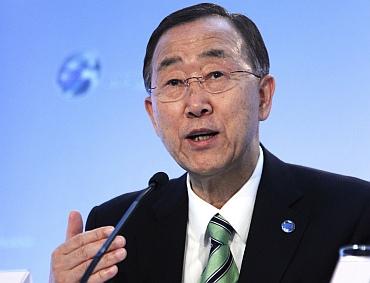 Hard to tell where seven billionth baby born: UN chief


Clean media correspondent


Nov 01, (CMC) : with countries across the world, including India, staking claim to being home to the seven billionth baby, United Nations Chief Ban Ki Moon said his office would not be able to pin-point who the world's seven billionth inhabitant is and where the baby was born.
"I am not in a position to make a firm clarification on who is the seven billionth baby," Moon said in response to a question at a press conference here to mark the 'day of seven billion.'
In India, the birth of baby girl Nargis near Lucknow was being marked as the landmark moment in world population. Nargis was born to Ajay and Vinita Yadav, residents of Dhanaur village in Mall block in Uttar Pradesh's capital.
Celebrations were also being held in the Philippines, where Danica May Camacho was named the seven billionth baby.
"I have read both reports coming from Manila and India (on the birth of the babies). Let us see," Moon said amid laughter.
United Nations Population Fund Executive Director Babatunde Osotimehin said the birth of the seven billionth baby should "sensitise" the world about the challenges and the opportunity the landmark moment has to offer.
"We have not anointed any child any where (on being the seven billionth baby)," Osotimehin said adding that it is possible that people in different countries claim and celebrate the birth of the historic baby.
Moon added that the day of 'Seven Billion' is not about one newborn or one generation but about "our entire human family."